General Information
Opening hours
Monday, 10 September 2012, 12:00–18:00
Tuesday, 11 September – Thursday, 13 September 2012, 09:00–18:00
The setup of the stands can only start Monday, 08:00–12:00.
Exhibition Location
The exhibition is located in the basement together with the coffee break area.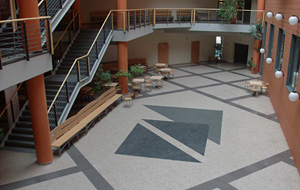 Booths
Each 6 sqm booth consists of panels from 3 sides, a table, two chairs, electricity supply, 2 reflectors, WLAN and a board with the company name.
Delivery Information
University of Lódz
Faculty of Management
Marlena Borowiecka (EMS2012)
22/26 Matejki Street
90-237 Lódz
Poland
Wednesday – Friday, 05 – 07 September 2012, 08:00-15:00.
Conditions and Cancellation Deadline
Orders must be made online, otherwise they will not be processed.
Payments will only be refunded if the notice of cancellation is received, in writing, by Copernicus Meetings before 01 August 2012. The cancellation fee is €100.
Important Notes
Proof of insurance must be provided upon request. Exhibitors are to have a rider on their current insurance policy to cover loss of, theft of or damage to their exhibit or other personal property while it is located at or is in transit to or from the University of Łódź. The exhibitor shall indemnify the University of Łódź, Targotex, Copernicus GmbH, and the EMS against, and hold it and its representatives harmless from complaints, suits or liabilities resulting from negligence of the exhibitor in connection with the exhibits use of display space. The University of Łódź, Targotex, Copernicus GmbH, and the EMS shall have no liability for loss, damage or theft, through any cause, of goods, hand carried items, exhibits, or other materials owned, rented or leased by the exhibitor. Personal effects, souvenir handouts and other small, easily removed valuable items should not be left unattended. In no event the University of Łódź, Targotex, Copernicus GmbH, and the EMS have any liability for incidental, consequential, special, indirect or punitive damages for any harm arising from, or related to,the use of exhibit space under the contract agreement.
The organizer of the exhibition is Copernicus Gesellschaft mbH.